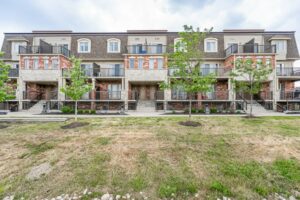 SOLD!
Neighbourhood Information
Welcome to Huron Village, an idyllic neighborhood nestled in the heart of Kitchener, Ontario. Known for its charming atmosphere, family-friendly environment, and convenient location, living in Huron Village offers a harmonious blend of suburban tranquility and urban connectivity.
Situated in the southwestern part of Kitchener, Huron Village boasts a strong sense of community that embraces residents of all ages and backgrounds. With a plethora of green spaces, and parks it is the perfect place for those that enjoy being outdoors.
One of the standout features of Huron Village is its proximity to various amenities. Enjoy the convenience of having several shopping centers, grocery stores, and restaurants within easy reach, ensuring that all your daily needs are met with utmost convenience. From local boutiques to larger retail outlets, you'll find a diverse range of options to cater to your every shopping desire.
Nature enthusiasts will appreciate the abundance of green spaces and trails that Huron Village has to offer. Take a leisurely stroll or bike ride along the scenic paths, unwind in one of the many parks, or embark on an outdoor adventure in nearby conservation areas. The neighborhood's commitment to preserving its natural surroundings allows residents to connect with nature and enjoy an active and healthy lifestyle.
In terms of connectivity, Huron Village is conveniently located near major transportation routes, making it easy to access other parts of Kitchener, as well as neighboring cities. Whether you're commuting to work or exploring the wider region, you'll appreciate the accessibility and efficiency of the transportation network.
From its welcoming community spirit to its abundance of amenities and natural beauty, living in Huron Village offers an exceptional quality of life. Whether you're raising a family, seeking a peaceful retreat, or looking for a well-connected neighborhood, Huron Village is the perfect place to call home. Discover the charm and convenience of this Kitchener gem and experience a truly fulfilling lifestyle.
Home Information
Bright and spacious 2 bedroom, 2 bathroom stacked townhouse in Kitchener, Ontario is waiting for you!
Features include:
Open-concept living area
Stylish kitchen with several upgrades and plenty of cupboard space
Two spaces bedrooms & second floor laundry
Two balconies to enjoy outdoor time
Close to Schlegal Park and Huron Natural Area for those that enjoy the outdoors.
Take a tour.
School Information: 
Elementary schools –
Highschools –