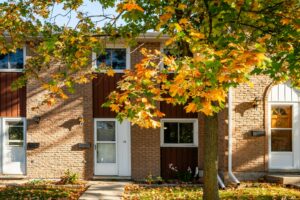 Neighbourhood Information
Nestled within the heart of Kitchener-Waterloo, Pioneer Park stands as a testament to the perfect blend of classic charm and modern living. If you've been yearning for a home adorned with mature trees and spacious yards, this neighborhood is your haven.
A Picturesque Retreat: Pioneer Park isn't just a neighborhood; it's a sanctuary for nature enthusiasts and outdoor lovers. The nearby Walter Bean Grand River Trail offers a scenic escape, inviting residents to indulge in leisurely walks or invigorating bike rides while soaking in the breathtaking natural beauty. The tranquility of the surroundings makes it a perfect spot for early morning jogs or peaceful evening strolls.
Embrace Culture and History: Immerse yourself in the rich heritage of the region at the Waterloo Region Museum, a stone's throw away from Pioneer Park. This captivating destination invites history buffs and curious minds alike to explore exhibits that vividly narrate the story of the area. Spend hours wandering through the museum, delving into the past and gaining insights into the vibrant tapestry of the region's history.
Convenient Connectivity: Pioneer Park boasts unparalleled convenience, especially for commuters. Situated just minutes away from the 401, residents enjoy easy access to major highways, ensuring swift and seamless journeys to various destinations. Whether you're heading to work or planning a weekend getaway, the proximity to the highway simplifies your travel, saving you time and energy.
Nurturing Education: For families moving to Pioneer Park, education is a priority. The neighborhood is home to excellent schools, ensuring your children receive quality education right in your community. Public school students embark on their educational journey at Pioneer Park for JK-6, continuing to middle school at Doon, and culminating in their high school years at Huron Heights. Catholic school students, meanwhile, attend either St. Timothy or St. Kateri Tekakwitha for JK-8, followed by St. Mary's for their high school education. With these institutions dedicated to nurturing young minds, parents can rest assured about their children's future.
Discover Your Ideal Home: In Pioneer Park, you'll find more than just a neighborhood; you'll discover a community that resonates with your lifestyle and aspirations. Whether you seek the solace of nature, the allure of history, or the ease of modern living, Pioneer Park welcomes you with open arms. Come, explore, and find your ideal home in this charming corner of Kitchener-Waterloo.
House Information – Virtual Tour
Perfect for commuters! This charming townhome backs onto a lush greenspace with no rear neighbors, ensuring a peaceful living experience. This inviting 2-storey townhome boasts a carpet-free interior, making it ideal for first-time homebuyers and those ready to move in right away.
Some highlights include:
Recently updated kitchen and flooring
Three good-sized bedrooms
A spacious basement that can be used for extra storage or finished for additional living space
Conveniently located close to Pioneer Park plaza that has delicious restaurants, a recently renovated grocery store and other shops.
For those that enjoy being active it is located close to parks, trails and the community centre.
School Information
Catholic schools
Public Schools