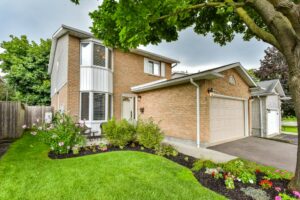 SOLD!
Neighbourhood Information 
Nestled in Cambridge, Ontario, Hespeler is a neighborhood that seamlessly blends its rich history with contemporary comforts. The area's historic allure is evident in its well-preserved architecture, Victorian-era buildings, and cobblestone streets. Despite its quaint charm, Hespeler embraces modernity, offering a vibrant community with local shops, cafes, and events that foster strong bonds among neighbors.
Nature enthusiasts can enjoy the serenity of the Speed River and local parks, perfect for outdoor activities. Modern amenities are readily available, including shopping centers and a variety of restaurants. Hespeler's commitment to education is reflected in quality schools and cultural enrichment through art galleries and theaters.
Housing options cater to various preferences, from heritage homes to modern residences. This creates a diverse community appealing to all stages of life. Hespeler's unique character lies in its ability to provide residents with a historic ambiance while offering the convenience and excitement of contemporary living.
House Information 
Two-storey family home nestled in Hespeler, with several updates throughout. With its close proximity to the 401 it is a great place for those that need to commute regularly, or investors looking for a turnkey property.
Some of the key features of the home are:
Energy retrofits under the Canada Green Home Program completed in 2022. The current energy rating is 73 GY/Yr, 3 points higher than a typical new home. Energy upgrades include –

New high-efficiency furnace
Heat pump / AC
Improvements to air selling for heat leakage and spray form insulation in the garage and basement on exposed walls

Fully finished basement with elegant fireplace
Recently replaced driveway (2021) and 1.5 car garage which allows for additional parking and still leaves some storage space.
Nicely landscaped
Close proximately to all amenities including restaurants, shopping and groceries
Within a short drive to the 401
School Information
Catholic Schools –
St. Benedict Catholic Secondary School – 9 – 12
Public Schools –
Galt C.I. – 9 – 12 (French Immersion / Extended French program)
initEmbeddedIGuide({"elementId":"embedded-iguide","url":"//youriguide.com/embed/5_cindy_ave_cambridge_on","args":{"unbranded":1,"bgcolor":"FFFFFF"}});