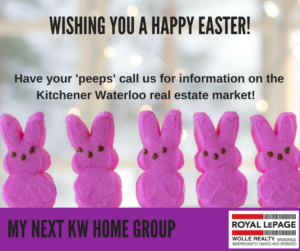 With Easter being the first holiday of Spring, everyone is always excited to celebrate it. The Region of Waterloo does not disappoint on delivering fun things to keep us busy! Here are some of our favourites in each city:
Cambridge Farmers Market has everything you need this Saturday to make this an Easter to remember! It goes from 9-11:30am with an egg hunt, crafts, cookie decorating and tons of vendors!
https://calendar.cambridge.ca/default/Detail/2018-03-31-0700-Easter-at-the-Market/Easter%20at%20the%20Market
The Waterloo Region Museum in Kitchener will be hosting "Jump Into the Story" throughout the weekend. Kids can come dressed as their favourite story book character to enjoy Dr. Seuss, design their own illustrations, play with words to help storybook characters to find their homes, and more!
http://calendar.waterlooregionmuseum.ca/Default/Detail/2018-03-30-0930-Family-Fun-Theme-Weekend-Jump-Into-the-Story
The Waterloo Central Train Experience in St. Jacobs is hosting three Easter Eggstravaganza's throughout the day on Saturday with appearances from the Easter Bunny and his friends, colouring activities, and lots of treats!
https://tickets.waterloocentralrailway.com/search
The Sunday brunch at Timeless Cafe & Bakery is sure to be a hit with mouth watering options ranging from benedicts to omelettes and pancakes to smoke salmon.
http://www.timelesscafeandbakery.com/sunday-brunch
For even more events, check out the link below – there is sure to be something for everyone!
https://www.todocanada.ca/things-easter-weekend-kitchener-waterloo-region/
Happy Easter everyone!