With the holidays approaching, there are ample opportunities for entertaining friends and family, however, not all of us have a large space. Here are some helpful tips we have used in the past for making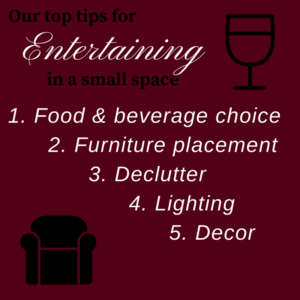 entertaining in a small space work.
When choosing food and beverage, more thought goes into it than your guests would know! First, you want to make pre-made drinks and put them in large dispensers at the back of the space. This takes away the need for large amounts of bottles, plus it keeps guests moving and prevents people from clustering in the middle of the space.
With regards to food, we alwaysgo with finger foods that can easily be replenished throughout the event,
can be stacked nicely on tiered plates and doesn't require a seat at the table to enjoy.
Next, you want to place the furniture you need for your occasion along the walls of the room. It keeps the option to sit available to your guests, but allows for excellent mingling space and prevents any tripping hazards! Decluttering is HUGE! The less clutter, the more spacious the room feels, plus the more surface area there is to place food, drinks, décor, etc.
**Secret tip: grab a laundry bin, fill it with what you don't need for the timebeing and stash it in a closet.**
When lighting your space, think lamps and candles along the perimeter. Not only will it set a beautiful ambiance, but it will also open up the area more than a lone ceiling light would.
Lastly, if you want tons of décor but need the surface space, move to the windows, walls and even ceilings to bring in those colours or themed items you want to tie the whole event together!
Once you are complete with these tips, you are ready to take on any crowd. We wish you a safe and love-filled holiday season with your friends and family!
Have any tried and true tips of your own? Comment on our social media posts to share them!