Here comes the joyful holiday season, and all the crazy that comes with it! At My Next KW Home Group,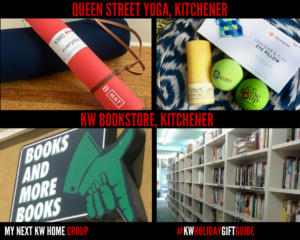 we want to help our clients stay zen throughout the season with help from two of our favourite local small businesses. One thing our team likes to do to wind down from the day, or to just enjoy some quiet time, is to read. One of the greatest gifts you can receive is a good book! They can take you to a whole new world (cue Aladdin music), inspire you or teach you something new.
Here in the Region of Waterloo, we have one of Southwestern Ontario's largest used book stores. KW Bookstore was established in 1975 and has a 3,000 square foot space in downtown Kitchener. There is an ever changing selection of books, vinyls, DVDs, art, etc. so you are bound to find something that suits you or someone on your Christmas list.
Something our newest team member, Cheryl Heisler, loves to do to wind down is practice yoga. Queen Street Yoga (QSY) in Kitchener has classes for everyone at every level. Perhaps yoga practice is new for you; try going to their "Meditation for Busy Minds" class or treat yourself to a massage as a nice introduction to the studio! If you have a yogi in your life you would like to treat, QSY has beautiful retail gifts available, gift certificates and yoga passes available for purchase – "a great way to give an experience," QSY team.
Both of these amazing local businesses have graced us with discounts for our clients. KW Bookstore is giving 15% off your used book purchase when you mention the Holiday Gift Guide, and QSY is offering 15% off their retail items from now until Christmas.
These are amazing opportunities to center yourself, give the gift of relaxation and support local businesses!