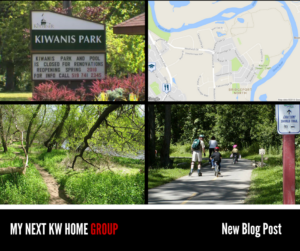 Kiwanis Park is a unique neighbourhood located in Northeast Kitchener on the border of Waterloo. Known for its beautiful homes, trails, and parks. It is the perfect place to raise a family.
This neighbourhood is also home to the City of Kitchener's Kiwanis Park Pool. After being closed in 2017 for renovations we look forward to seeing the improvements when it opens in June of this year. To learn more about the upgrades you can visit the City of Kitchener's project webpage.
Part of the appeal of this neighbourhood is that there is no shortage of activities within walking distance from most homes in the area.
A few of the activities include:
Walk to various recreation activities that take place on the large fields – for example, soccer and ultimate frisbee
Play beach volleyball as part of a league or with family and friends
Choose from various playgrounds designed to help keep busy children entertained
In the winter skate on the outdoor ice rink
Walk/run/bike on the Walter Bean Trail
Have a dog? Allow them to run in the leash-free dog park
It is also a short drive to RIM park
If you are looking for the perfect place to raise a family you should consider the Kiwanis Park neighbourhood.
If you would like to keep updated on the most recent listings in this area, let us know and we would be happy to share more information.