Are you in the market for a new home in Kitchener Waterloo and surrounding areas? Look no further than Michael and Laura Hewitson from the My Next KW Home Group. With years of experience in the local real estate market, they offer unparalleled expertise and a personal touch to make your home buying experience unforgettable.
But why choose Michael and Laura as your real estate agents? Here are just a few reasons:
In-Depth Knowledge of the Kitchener Waterloo Market: With a deep understanding of the Kitchener Waterloo and surrounding areas real estate market, Michael and Laura can help you find the perfect home in your desired neighborhood.
Attention to Detail: Michael and Laura pride themselves on providing a personalized experience for each of their clients. They take the time to listen to your needs and preferences, ensuring that every aspect of the home buying process is tailored to your unique requirements.
Expert Negotiating Skills: When it comes time to make an offer on your dream home, you can trust Michael and Laura to negotiate on your behalf. Their expert negotiating skills will help you secure the best possible price for your new home.
Professionalism and Integrity: Above all, Michael and Laura prioritize professionalism and integrity in their business. You can trust them to always act in your best interest, providing transparent and honest communication throughout the home buying process.
Don't settle for a subpar home buying experience. Let us help and receive a personalized and expert approach to finding your dream home in Waterloo Region. Contact them today to get started!
Want to learn more? Download one of our home buying guides to help!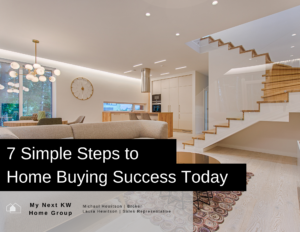 Download – 7 Simple Steps to Home Buying Success Today